Dedon: a north american leader in store planning
At DedON we are passionate about what we do and how we do it. Our team is driven to be a value add to every person, company, industry, and project we interact with. We are a rapidly expanding Architectural Support company specializing in Site Surveys, Store Planning and Installations. Our team spans across North America building our community of inclusivity, growth, creativity, passion, and openness.
I went to school for architecture and when I got out of school my first job was working for a large manufacturing company. I'd sit in meetings with these professional designers professional project managers and they were guessing and that just startled me a little bit that that can't be the way professionals have to work. 
So, DedON was born out of this need that professionals need more information they need better information. Really what we're doing is architecture in reverse. We're taking the existing building and we're pulling out the information that our customers need. That takes the form of architectural drawings photographs videos, takes the form of checklists written detail. We're trying to change the information from these items exist as physical assets and we're trying to change them into the language that our customer can absorb them with. 
The real power of being a professional designer is being able to solve many challenges before they occur. Most of our customers are national brands our regional brands they have many locations and they struggle to understand the nuances of every single location across country. That's where the combination of our field team in our retail support team step in to physically visit the site gather all the information, in a very consistent manner so that all of a sudden our customer has got this platform of drawings that all look the same. 
DedON was founded on the idea that we had to be right, we had to be reliable to our customers. So, we really went forward was saying how are we gonna be consistently accurate and reliable. We went and built a really thorough process. We've been in business for almost 20 years and we've been doing nothing but refining our process really it's about providing that unified coverage across the entire brand. 
So, whether it's coast to coast in Canada or coast to coast in the United States geography is not an issue. Our retail support team work with our customers to understand not only their goals and their objectives but also their business logic and that gives us a real distinct advantage in being able to mimic the same decisions that our customers make and then execute work as if the customer was doing it themselves. 
We're a very process driven company. We're very intentional with every move we make. What we're doing is we're eliminating unknowns. Right from the founding day of this company our goal was to give professional planners the certainty they needed to make the decisions that made them professionals. We understand both the strategy and the business rules and we can implement it with such consistency that it allows our customer to focus on what they do for a living which is execute retail strategies not draw them.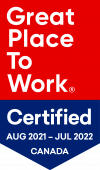 great place to work certified
It is official – DedON is a great place to work. We are proud to have achieved 'Great Place to Work' certification for the last 2 years and look forward to many more. 

Named 36th best workplace, 50-100 Employees

best workplaces in professional services

BEST WORKPLACES FOR INCLUSION
Meet a few members of our team of 60+ amazing people (and growing!)
Let's be honest, I'm in sales, so I love talking with people. For me, life is all about connection. Connecting with people. Figuring out how to connect problems with solutions. Most of all, helping others connect their passion and skills to reach their goals.
At DedON, my role is to inspire these meaningful connections. By many ways including connecting with our clients, I guide our team to get to the root of problems and ensure DedON provides a solution resulting in success and, in turn, another raving fan!
Passions: My Family & Friends, Travelling, Golf & Hockey, Working on my "Honey Do!" list
Leading the DedON Projects Team has been a marriage of my professional passions; my experience leading sales and operations, project management, and my love of retail.
My passion is people and inspiring their growth, development and conglomeration of personal successes in teamwork. Nurturing my passions and growth, I find importance in spending time with my four beautiful littles outdoors making campfires, water skiing, snowmobiling, and being a dedicated Soccer Mom.
Passions: Soccer, Golf, Food Insecurity, Special Needs Advocacy, Antiquing, Campfires
As a problem solver, my favourite question is Why.
I believe in clearly communicating "the why" to empower team members to figure out how they are going to solve the problem in front of them and individualize their journey to achievement. I love creating an environment for someone to succeed – I listen to hear what is needed, challenge people to think differently and ultimately find a way to remove the obstacles in front of them. To see someone grow and gain confidence and belief in their own abilities, that's what I'm all about!
Passions: Mentoring, Mental and physical wellness, Hiking, Music, Water, Life-Long Learning
I have a passion for numbers; their meanings and the stories they tell. Numbers are conversation starters and looking at the right numbers, in the right context, help us all make the next best decisions.
At DedON I oversee the financial reporting, analysis and all other accounting functions. With my financial background and experience in retail I understand our financial needs as well as our clients, our approach to finance is creative helping everyone reach their goals.
Passions: Technology, Traveling, Cooking/Food, Family & Friends, Learning and Teaching
I founded DedON 25 years ago in an effort to give professionals better decision making information. Working Smarter is a term I often use to describe the impact I believe we make on the lives of our employees and clients. 
I am driven to make your work investment full of successful outcomes and low stress days. This is my personal mission in life & here at DedON.
Passions: My Family, Travel, Working Smarter, Sports, The Great Outdoors
join our team
We are always looking for great people to grow with our team. Select the link below to learn more about opportunities with DedON.